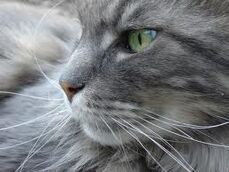 Jayleaf is a gray-blue tabby tom with green eyes.
Medicine Cat; Preceded by None; Succeeded by Mistjay
Life as a Rogue
Edit
Stub.
Life in DewClan
Edit
Stub.
Jayleaf died of a respitory infection at the age of seven.
Apprentice
Edit
Mistpaw/jay
Edit
Omens and Prophecies
Edit
Prophecies
Edit
"When fast light strikes, a star will fall, and safety will be at blood rock."
- Given by Nightpaw, Daystar's deceased sister
"The one who holds the flame shall burn the thorns."
- Received minutes before Jayleaf's death